Welcome to the Wedgefield Homeowners Association
Wedgefield is a Friendly and Peaceful Golf, Equestrian Community located in Orlando Florida. The Beauty of Wedgefield is it's laid back environment where golf carts and horses are used for transportation almost as much as cars.
The Wedgefield community is diverse in both age and culture and offers a great atmosphere for enjoying the natural beauty and great weather of Central Florida.
We encourage you to visit Wedgefield and have lunch at the Club House and get to know some of the people that call Wedgefield Home.
Our Next General Meeting is on Wednesday, March 11th at 7:00 PM at the Wedgefield Golf and Country Club.
Our Special Guest Speaker is Mr. Sean Bailey, District 3 Representative for the Citizens Corps Council & President of Conway Acres & Cardinal Park Association.
Your neighbors would like to invite you to join our Homeowner's Association:
Click here to Join Us
---
Get the Monthly Newsletter, Public Service Announcements, Breaking News and updates by email
---
1. Found Dog
2. March Articles added
3. Car Show and Chili Cook Off Event Photos added
4. WHOA Community Garage / Yard Sale Event
5. FDOT Toll Rate Rule Development Public Workshop (Learn about the increased toll rates)
6. National American Miss Press Release
7. Alexis Bentiganan in the News
8. Adopt a Fire Station
---
Website Disclaimer
"The views expressed on this website are those of the article authors and do not necessarily reflect the position or policy of the Wedgefield Homeowners Association, Directors, and Officers."
---
Car Show & Chili Cook Off
Event Photos
Click on Photo below to see Slideshow
---
---
Toll Rate Rule Development
The Florida Department of Transportation (Department) is hosting a Toll Rate Rule Development Workshop to provide the public an opportunity to review and comment on proposed amendments to Rule 14-15.0081, Florida Administrative Code. This includes the proposal of new toll rates for the Department segment of the Wekiva Parkway in Orange, Lake and Seminole Counties and amended toll rates for the First Coast Expressway in Clay and Duval Counties. Finally, as a result of the toll plaza removal on the Martin B. Anderson Beachline Expressway owned by Central Florida Expressway Authority (CFX), the CFX toll will be collected at the Turnpike's Beachline West Toll Plaza in addition to the Turnpike's toll. The new toll rate for the Turnpike's Beachline West Toll Plaza will reflect this combined toll rate.
PUBLIC WORKSHOP
The Toll Rate Rule Development Public Workshop will be held on Thursday, March 5, 2015 at 6:00 PM

This workshop will be held as a webinar, or live presentation, over the internet.

To register for the workshop, click here: GoToWebinar Registration
---
---
FOUND PETS
Found dog on 3/5/2015
He appeared on Starry Street and now found his way to Somerset Street.
He is a very sweet dog.
Black - perhaps part shepherd
Has a small brown spot at the base of his body near his tail.
Didn't want to risk him getting hit on Starry, Bancroft or Dallas so i have given him temporary shelter. I already have a dog and therefore cannot shelter him long term.
Please call us at 407-568-4420
---
National American Miss
Miss Trinity Rain Viera, age 5, has been chosen as a State Finalist in the National American Miss Florida Pageant to be held 7/17 – 8/15 at the beautiful Hyatt Regency Grand Cypress Orlando. The pageant is held for girls ages 4 through 6.
The newly crowned Miss Florida Princess Pageant Florida will receive a $1,000 cash award, the official crown and banner, a bouquet of roses, and air transportation to compete in the national pageant at Disneyland in California. She has the chance to represent the great state of Florida for the entire year. She will also tour Hollywood.
National American Miss is dedicated to celebrating America's greatness and encouraging its future leaders. Each year, the pageant awards thousands in scholarships and prizes to recognize and assist in the development of young ladies nationwide. All activities are age-appropriate and family-oriented.
The National American Miss Pageant System is the largest in the Nation. The focus of this organization is to create future leaders and to equip them with real-world skills to make their dreams a reality. The program is based on inner beauty, as well as poise and presentation, and offers an "All-American spirit of fun for family and friends." Emphasis is placed on the importance of gaining self-confidence and learning new skills, such as good attitudes about competition, as well as setting and achieving personal goals.
Families interested in learning more about this unique and outstanding yough program may visit www.namiss.com.
Miss Viera's actives include Dance, sing, flag football! She also enjoys having tea parties with Nana and good ol' family time with her two older brothers, papi and mom.
---
Alexis Bentinganan in the News!
Alexis Bentiganan, daughter of Vimille and Banbz Bentinganan made news at the National Anthem Auditions held at Tradition Field in Port St. Lucie. Alexis will sing the National Anthem at the March 22nd New York Mets vs New York Yankees spring training game. Congratulations Alexis!
You can see a the WPBF video by clicking on the photo below.
---
Adopt a Fire Station
December 24th found many of the Wedgefield residents converging on Fire Station 86 carrying platters, casseroles and plates of delicious food and sweets. For the second year we participated in the Orange County "Adopt a Fire Station" program sponsored by Mayor Teresa Jacobs. We know we are very fortunate to have a Station located in our community and we want the Firemen to know that they are appreciated. They are the "First Responders" if there is a fire or medical emergency and many residents know firsthand that they are quick to respond.
One thing few know is that they are not allowed to leave the community to do a simple thing such as grocery shop unless they can get another station to "stand by" for them while they are out of the community. Have you ever started to cook something only to realize that you were missing an ingredient? Better not happen at the Fire Station! If they forget to bring something in on their way for their two day shift they are out of luck. They can't go to a neighbor and "borrow" a cup of sugar. Their neighbors live too far away. They are limited to shopping at the Citco station on Macon.
While it is great to remember them during the holidays, we should show them we really appreciate what they stand for and do to insure the safety of our community during the entire year.
CLICK ON PHOTO TO SEE SLIDESHOW
---
Wedgefield Homeowners Association
Rules and Restrictions
Section 4.7 Signs
No signs of any type shall be displayed to public view on the Lots or any portion thereof without the prior written consent of the Association, except the following:

A. One "For Sale" sign or "For Rent" sign per Lot; provided the sign is no larger than two (2) feet by two (2) feet;

B. Political signs are permitted during election periods and must be removed immediately after the election;

C. Builder's signs for models and offices: and

D. Commercial Business signs on vehicles are permitted.
E. Garage Sale Signs, not to exceed three days and must be removed immediately after the event concludes
From the Orange County Code Enforcement Website
llegal Signs
"Private signs may never be placed within the public right-of-ways unless approved by Orange County. Signs may be removed without warning by County workers and those placing such signs are subject to fines. The county picks up over 100,000 signs each year."
I will specify that the "Save Wedgefield" signs are not considered to be "political signs". If you are concerned about the presence of these signs, or any other illegally placed signs, be proactive and take some action. If it's your neighbor ask them to remove it. Call Orange County Code Enforcement (407-836-3111) and report the violation and ask that the signs be removed. If the signs are on private property call any of the WHOA Directors and report the address so we can take appropriate action.
---
Neighborhood Classifieds
Classifieds
ESTATE SALE STARTING JANUARY 2015

Furniture Security Desk Curio Cabinet Appliances Lamps Housewares Depression Glasses Sportscards Comics Vintage comics Parrot cage Bird Cage Toys Collectible Barbie Dolls AND LOTS MORE. Please call KATHY at (407)568-1805. Prices are Negotiable and package deal.
Two well behaved male collarless pit bulls
At approximately 1 AM Saturday morning (Dec 6) we came across two male pit bulls. Well behaved and playful. If your looking they are at 2258 Baker. You can contact me at 954-598-4332. They were fed and out I the elements. Please contact ASAP. we don't want to turn them in cause of breed and stigma.
---
Bayanihan at Wedgefield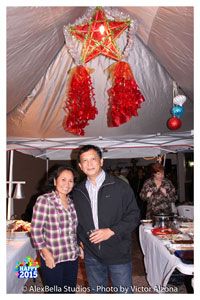 Dear Bayanihan at Wedgefield Members and Friends,
If you attended the wonderful New Year's Eve Celebration at the Gandola residence, you know that we started the year off with a bang, great food, music and dancing.
I would like to thank the Gandola Family for hosting the New Year's Eve celebration and everyone who participated, helped, organized, and supported the event.
I would also like to thank Jonathan Toves for his leadership, the 2014 Officers for their hard work this past year, and the many members that supported and participated.
Looking back through 2014 with Bayanihan, you can see by the event photos below that it was busy with activity.
Looking forward, I see an opportunity for Bayanihan at Wedgefield to do extraordinary things for our members, kapitbahay, and community. The possibilities are only limited by our imagination and resources.
I invite you to look at the possibilities and the future of Bayanihan at Wedgefield at the next general membership meeting. I look forward to hearing your feedback so together we can plan the future of Bayanihan at Wedgefield.
Sincerely,
Victor Alzona
---
Neighborhood Watch
This Month Neighborhood Watch Information will continue to be published in an ongoing effort to keep our community informed on crime watch matters.
During the last half of JANUARY to the present date of FEBRUARY 15, 2015 based on Orange County Sheriff's crime statistics and individual reports not yet reflected in the statistics there has been 1 RESIDENTIAL burglary, on BANCROFT in the 4300 block. Additionally, we had 5 auto burglaries, one in the 20100 block of MARLIN ST and one in the 2200 Block of ABNEY AVE, and one in the 2300 Block of ALABASTER, and one in the 2500 Block of BALLARD AVE, and one in the 19000 Block of SOMERSET ST. Additionally, we had a vehicle stolen in the 2300 Block of ALABASTER.
The listed residential burglary was to a shed and the perpetrators took a generator along with several items for lawn maintenance. It is important to note that none of the vehicles that had burglaries were locked. As long as we continue to leave our vehicles unlocked we will continue to have the burglaries. By doing so we are training the next generation of burglars that will continue to ply the methods learned for bigger rewards.
---
Citizens On Patrol
Can I Park here or there?

When I am out on patrol I sometimes see vehicles parked in violation of ORANGE COUNTY ORDINANCE 85-1 CHAPTER 35 and I may issue a courtesy ticket (warning ticket with no fine) to let the vehicle owner know that they are in violation.

Occasionally the owner may see me writing a courtesy ticket and they may ask me if they can park here or there? My answer will depend on the parking violation I observe and the situation. The majority of the vehicle owners I have spoken with are not aware of ORANGE COUNTY ORDINANCE 85-1 CHAPTER 35 and are happy to get an explanation from me of why they are in violation of the ordinance. The majority of the vehicle owners are happy to quickly remedy the situation to prevent a parking ticket.

During my patrols I have noticed that the majority of the parking violations in Wedgefield are due to vehicles parked on or blocking sidewalks and vehicles parked on or blocking the bicycle lane / path.
---
Calling All Green Thumbs
February 5th the Garden Club of Wedgefield met at the Country Club meeting room. Lee Breedlove, leader of the year, was the presenter this month, also. After business and orders were taken for lunch, Lee told all about the origins of the pink grapefruit in Manatee Co., FL., and the subsequent discovery of the red grapefruit in Texas. It was interesting to discover that the red grapefruit can be propagated from a seed! Several forms of grapefruit were given as door prizes, Janis Thaw brought cuttings from a cactus and Lee had packages of white sunflowers to give out, as well.
Next month, Adelaide Catania will give a program on Tomatoes and composting. Please come out and support your local garden club with you attendance! We welcome you! Mark your calendar for March 5th at 11:00. Please come early so we can start on time. See you then!
---
Yard of the Month
Yard of the Month Program - Voting began in April, during the first week of the month. Judging will be done by 3 people on a criteria of the best yards viewed and voted on during the viewing time. A yard sign will be awarded to the winning yard. That sign will be picked up and presented to the next month's winner.
November Yard of the Month
Green Thumb Garden Club Judges this month, were Rosemary Wolfe, Jackie Miner, and Lee Breedlove. The area to be judged was Macon Pkwy to Maxim Pkwy and 520 to Bancroft. The yard that was chosen for Yard of the Month was at 2365 Archer Blvd. Owners, Jackie Finley Carter and her husband Don. She is a School teacher and Don is retired. Jackie has lived in Wedgefield since 1975! Judges noted a nice Elm tree, and an Oak tree, Crape Myrtle, Red Trumpet vine, coleus, Bird of Paradise. There was also Pinta, Jatropha's, Texas sage, and varieties of Lilies. The back yard is just as beautiful as the front yard.
Other yard's the judges took favorable notice were 20208 Marlin, 2255 Bagdad and 2221 Amberly. Thanks to all the homeowners who take care of their properties! This is the last Yard of the Month until after winter. When spring arrives, remember the Yard of the Month will be out again!
---
Firewise Communities
Warmer weather is on its way with the dry and cold winter in the past. This winter weather of the past months has created a great deal of fuel in the Wedgefield area which we need to clear out before fire season starts again. With that in mind, here are some reminders on how to reduce the fuel on your property.
In Firewise landscapes, there are 4 zones, with Zone 1 being closest to a structure and Zones 2 - 4 move progressively further away.
Zone 1 - this is a well irrigated area encircling the structure for at least 30' on all sides, providing for space for fire suppression equipment in the event of an emergency. Plantings should be limited to carefully spaced fire resistant species.
Zone 2 - Fire resistant plants should be used here also, and should be low growing and the irrigation system should extend into this section
Zone 3 - Low- growing plants and well-spaced trees in this area, remembering to keep the volume of vegetation (fuel) low.
Zone 4 - This furthest zone from the structure is a natural area, thin selectively here and remove highly flammable vegetation.
---
Lunch and Movie
In January and February the "Lunch and Movie Group" enjoyed our local restaurants and saw the latest movies.
The restaurants they enjoyed were "Aztec de Oro", "Papa Gio's", "Longhorn", "Applebee's" and "Sonny's".
The latest movie they saw were "American Sniper", "Birdman", "Black or White", "The Boy Next Door", "The Wedding Ringer" and "Blackhat".
If anyone is interested in joining the "Lunch and Movie Group", call Jan Berglund (407) 568-3313 or Sylvia Cox (407) 568-2410.
REMEMBER: Families are like fudge, mostly sweet with a few nuts.
---
Wedgefield Classy Red Hat Ladies
On January 16th our hostesses were Marty Fioramanti, Connie DeVries, Doris Bodecker and Adelaide Catania. We lunched at the "Orlando Ale House". There were 32 "Red Hatters". The door prizes were won by Martha Bradford, Bea Christensen and Sylvia Cox. The birthday girls were Connie Shephard and Lillie Douglass and they took home beautiful Red Geraniums that were the centerpieces on the table.

On the 22nd of January 14 "Huggable Red Hatters" met at "Victorio's Restaurant" in Titusville. Nancy Stickrod and Jan Berglund were the hostesses. Joan Smith and Ann Brown won the door prizes.

On the 26th of January 18 of us played Bunco at the Club House and had lunch. On February 1st 7 "Red Hatters" really enjoyed the play "Mary Poppins"; it was one of the most outstanding plays we have seen there. Afterwards we had a pleasant time dining at "Shiloh's".

Our next "Red Hat" luncheon will be at the Wedgefield Golf and Country Club on the 20th of February. It will be an Italian Buffet and everyone will be wearing red to celebrate Valentine Day. The hostesses are Ann Breazzano, Debbie Goderis and Ann Grimes. See you there – Sylvia

REMEMBER: Wrinkles just show us where smiles have been and a house dress can cover a whole world of sin. Time makes big worries seem silly and small, for the years bring the wisdom to laugh at it all.
---
DEFINITION OF RED HAT FRIENDSHIP

F. Fun loving and Faithful
R. Risk being real, even misunderstood
I. Interested in the Welfare of Others
E. Expect the best in others
N. Natural relationships
D. Delightful and Diplomatic
S. Supportive and Sympathetic
H. Helpful, Hopeful and Happy
I. Interdependent by helping others
P. Patient and Personable
---
Community Emergency Response Team
CERT Training

On Saturday October 11th, 21 members of the Wedgefield CERT group met with Mr. Jack Tracy of the Florida Health Department who is in charge of the Orange County Neighborhood Emergency Preparedness Program (NEPP). Mr. Tracy introduced the team to Mr. Jim Mauney and his wife Kim. Mr. Mauney is a Professional Trainer who has trained Firemen, Law Enforcement Personnel as well as numerous CERT groups and Kim is a Certified EMT who is currently employed by the Corrections Department.

Mr. Mauney went into detail about the various parts of a NEPP and CERT components from the Incident Command thru the teams in the field and how they all blend together. He led the attendees through a simulated tornado in Wedgefield in a table top exercise and then explained how good record keeping is extremely helpful to the Fire Department personnel and other professional responders. He put the attendees through some very interesting team building exercises and worked on radio communication procedures.

The entire day was interesting, informative and motivating. This is just one more part of the training that the volunteers do so that they are ready to help their neighbors and the other residents of Wedgefield in the event of a disaster.
---