Welcome to the Wedgefield Homeowners Association
Wedgefield is a Friendly and Peaceful Golf, Equestrian Community located in Orlando Florida. The Beauty of Wedgefield is it's laid back environment where golf carts and horses are used for transportation almost as much as cars.
The Wedgefield community is diverse in both age and culture and offers a great atmosphere for enjoying the natural beauty and great weather of Central Florida.
We encourage you to visit Wedgefield and have lunch at the Club House and get to know some of the people that call Wedgefield Home.
Our Next General Meeting is on Wednesday, March 12 at 7:00 PM at the Wedgefield Golf and Country Club. Our guest speaker is Ms. LaMesha Wade, we hope that you will be able to attend the meeting.
Your neighbors would like to invite you to join our Homeowner's Association:
Click here to Join Us
---
Get the Monthly Newsletter, Public Service Announcements, Breaking News and updates by email
---
1. March Articles added
2. Upcoming Events added
3. Lost and Found Section Updated
4. Free Classifieds Updated
---
Notice of Special Meeting
Amendments to WHOA By-Laws
7:00 PM Wednesday
April 9, 2014
---
Wedgefield Golf and Country Club News
CLICK HERE TO LEARN MORE ABOUT THEIR SPECIALS FOR MARCH
---
Wedgefield Homeowners Association
Community Garage Sale
Saturday
March 29, 2014
8:00 am to 2:00 pm
---
Save the Date
FREE EVENT
SAFE KIDS DAY
April 12, 2014
8:00 AM - 11:00 AM
Children's Safety Village
910 Fairvilla Road
Orlando, FL 32808

No Fee to Participate! Register to save your child's spot:
407-521-4673
---
Wedgefield annual car show and chili cook off
Chili Cook Off Winners
Car Show Winners

First Place:
Steve Bashore with his "Kitchen Sink" chili recipe.


Second Place:
Bart Byrd with his "Fully Involved" chili recipe.


Third Place:
Mike Moss with his "Two Hearts" chili recipe.


Best Named Chile:
KITCHEN SINK by Steve Bashore

First Place:

Kenny Crites with his 1969 Chevrolet Camaro


Second Place:

Jim Miner with his 1968 Ford Mustang


Third Place:

Richard Harris with a 1935 Ford Coupe

Peoples Choice Trophy:

Kenny Crites and 1969 Camaro
---
Wedgefield Homeowners Association
Rules and Restrictions
Section 1.7 "Member"- shall mean and refer to an individual who (a) owns or leases a Lot
in the Properties; and (b) who has applied for membership in the Association; and (c) paid the
annual dues; and (d) is otherwise in good financial standing with the Corporation.
---
Neighborhood Classifieds
Classifieds
OUR SECURITY SYSTEM WILL KEEP YOUR HOME SAFE
We keep your home safe with our new security system. FREE INSTALLATION! Call today and have our technicians quickly install your new security system. We have the newest and best security systems available. Two-way digital voice with video and monitoring packages. CALL TODAY! 1-800-621-4098
Sports Cards and Comic Books
Have 100000 baseball basketball football hockey and soccer cards in sets or single Plus 400 comic books and Star Trek collection. Also have hotwheels cars. Call 321 804-4725 or email me at pdfamily@att.net .
HO Scale Electri Train
Hard to find 1776 HO Locomotive with Presidential Seal. Also Armour RefrigNew Haven Virginian laod cartsAuto Loader with 6 autos PiggyBack flat car set33 pcs bridge& trestle in original boxes.Have photos 321 804-4725 or email pdfamily@att.net. Train $175.00
Antique Irons/Weight Scale
Have 11 antique collectable irons. They are from SpainTurkeyArgentinaSouth America and USA. Plus antique weight scale with different wts that were used in country stores.Have photos. Call 321 804-4725 or email pdfamily@att.net
Antique Sewing Machine
Opportunity to own one of the saw after antique Domestic-Vibrator sewing machine built in the early 1900's. It includes a foot pedalcarrying case numerousattachments with its own case. Have photos. Call 321 804-4725 or email pdfamily@att.net Price $185.00
Minolta X-700 35MM Camera
Minolta X-700 MPS 35 MM SLR camera. Also includes: 55MM F/1.7 lens 70-210 MM 1.4 zoom lens flash unit plus leather carrying cases for all. Call 321 804-4725 or email pdfamily@att.net. Have photos $375.00.
---
Lost and Found
LOST PET
Missing outdoor kitty/cat.
This is a picture of Butch. I haven't seen him for 2 days. One day is somewhat normal; 2 days pretty unusual.

Male, about 2 years old, neutered, very friendly, big/muscular looking cat. May even get into someone's car.
4 white paws, with all black 'pads'.
Rod Baker at 20486 Netherland St., 407-470-0561.
---
Bayanihan at Wedgefield
Bayanihan Christmas Celebration

The annual Bayanihan at Wedgefield (BAW) Christmas party was held at the Renaissance Hotel on Saturday, December 14th with close to 100 members and guests in attendance. The beautiful decorations and delicious food was eclipsed by the talented performances by the Bayanihan youth and members as they entertained the audience with several renditions of Christmas songs and dances.

2013 Bayanihan president Tess Obleada's closing remarks "As the president of BAW in 2013, I thank you all for your cooperation and active participation in all our activities."
Congratulations and Thank you Tess for leading Bayanihan at Wedgefield through 2013.

Bayanihan will be hosting elections for 2014 officers and if you are interested in learning more about Bayanihan at Wedgefield and want to be involved, please contact Tess Obleada at 407-617-8107.
Rocking New Years Eve Celebration

Bayanihan at Wedgefield members rang in the New Year with fireworks, great food, dancing, and party games at the Gandola residence. A true celebration looking forward to a wonderful 2014 was enjoyed by all in attendance.
Click on the Photo to see all the photos
Bayanihan at Wedgefield
New Year's Eve Celebration
---
Note from the President
The growth of our membership this year is growing faster than it has in years past. We are currently entering the third month of our membership drive and we are already at the 200 mark and growing weekly. I'm optimistic that this may be one of our best years ever! Again, we need you, our members to get the word out to your neighbors and encourage them to join. With your support we can really make things happen for and in our community.
Our last meeting was a wash-out. We had some really bad weather, high winds and driving rain that kept a lot of our regulars at home. But we did have ten foul-weather friends that made it to the Country Club so we went ahead and had our meeting. Thanks to those that attended.

UPCOMING EVENTS:

March 29th - COMMUNITY GARAGE SALE, 8am to 2pm at the Macon PKWY. Tom Minter is the contact. Call Tom to reserve your spot early... they went fast last year. See the flier in the newsletter.
---
Positive Words
My Thanksgiving Feast

As I feasted during Thanksgiving dinner, I was faced with the knowledge that others may not be as fortunate as I am. I know that there are people within my own 32833 zip code that may not have the means to nourish their bodies with a daily meal, yet alone a thanksgiving dinner. And there are others who do not have shelter to protect themselves during the cold of the night and call the open streets their home.

As I continued to feast fully knowing that half way around the world at the country of my birth, the Philippines, there were hundreds of thousands of displaced people living in make shift tents, waiting for days without food and water thanks to the most powerful natural disaster recorded to happen; Typhoon Haiyan.
---
Neighborhood Watch
Each Month Neighborhood Watch Information will continue to be published in an ongoing effort to keep our community informed on crime watch matters.
During the last half of JANUARY to Present date of FEBRUARY 15, 2014 based on Orange County Sheriff's crime statistics and individual reports there was ONE reported AUTO BURGLARY in the 20500 Block of Racine. There were no reported RESIDENTIAL BURGLARIES.

Having only one reportable crime gives us the opportunity to reflect on the tragic events that surround the shooting death of Deputy Jonathon Scott Pine. He was shot while pursuing a suspected car burglar. This senseless death is a devastating loss to his family, OCSO's agency and the community. Deputy Pine was shot and killed in the line of duty early the morning of 2/11/2014, while investigating a burglary call. As the 34-year-old arrived at a residence in southwestern Orange County, he saw the burglary suspect and radioed in to advise he was involved in a foot pursuit. While he chased the suspect, something went horribly wrong and the suspect was able to shoot at and strike Deputy Pine. A short time later, the suspect was found dead of a self-inflicted gunshot wound. A second suspect was arrested on felony charges.
---
Citizens On Patrol
The Wedgefield COP Team has volunteered over 500 hours during 2013. Volunteer hours spent actively patrolling the Wedgefield community, performing Residential Security Surveys, participating at Wedgefield events (Car Show, Community Garage Sale , Easter at the Park, National Night Out, Fall Festival and Meet Santa at the Park), and special events in the county.
Instead of posting tips and crime prevention information this month, I wanted to share with you my personal perspective as a volunteer.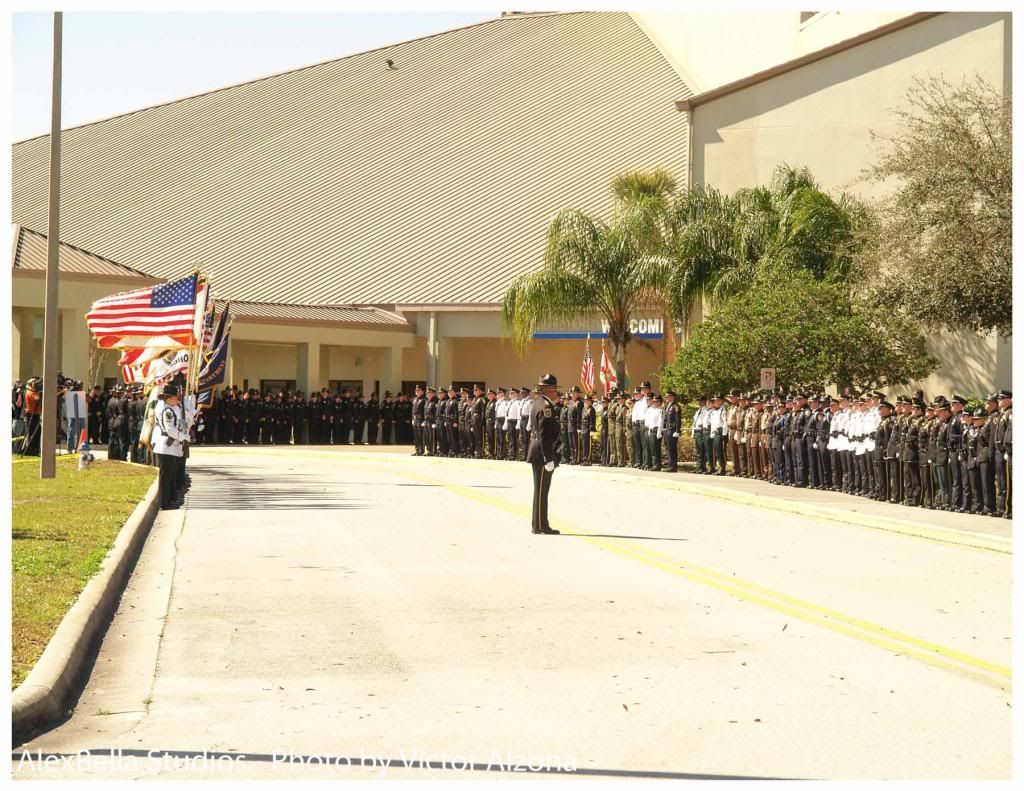 The month of January and February wasn't any different for the COP Team with the exception of attending the memorial service held for a fallen hero, OCSO Deputy Sheriff Jonathan Scott Pine, who was killed during the line of duty on February 11, 2014. While attending his memorial service I learned more about Deputy Sheriff Pine and wanted to share with you some of the key things that made him a special person and a man worth knowing.
Jonathan was a family man with a lovely wife and the father of three children. What made him unique was his passion to help others and to "make a difference" with his family and the community. He initially was called to "Serve and Protect" when he thought that his job as a Loans Officer for a bank several years ago wasn't enough and he wanted to do more for his community.
---
Calling All Green Thumbs
We met on Thursday, January 2, 2014. We did not have a program scheduled, so we spoke about various subjects that were brought up. One item on the agenda, was starting a Bunko game. The game rules of play was presented by those who had already played the game. The game day was chosen: the last Monday of each month. The time of day will be 11:00 and we will plan to have lunch at the Country Club. We will meet for the first time on January 27th.
Our February meeting will be on Thursday the 6th. A program will be presented by Ruth Oliver. We will meet at 11:00 at the Wedgefield Country Club, in the
meeting room. Please join us!
---
Yard of the Month
Yard of the Month Program - Voting began in April, during the first week of the month. Judging will be done by 3 people on a criteria of the best yards viewed and voted on during the viewing time. A yard sign will be awarded to the winning yard. That sign will be picked up and presented to the next month's winner.
November Yard of the Month
The winning Yard of the Month of the Green Thumb Garden Club is John and Lily Schmidbauer who planned their landscape at 19437 Sheldon. Their yard is beautifully landscaped with many mums, vinca, roses and plumeria for color. Many palms are on the property such as Canary Island Date Palms, other date palms, Washingtonian Palm and a small Magnolia. Their date palms were raised from seed! The lawn is dark green, well manicured and weed free.
John and Lily have lived in Wedgefield for eight years. Their home was built by Wedgefield resident Rob Goderis. They came to Orlando from Miramar in S. Florida. They used to own a Landscaping business, now their business is "Data Experts", anything to do with data.
Many yards were viewed this month in the area Reynolds to Starry and Bancroft to Dallas. When you are out to see the Schmidbauer yard, we hope you also take time to note other beautiful yards in our community, especially the Schmidbauer neighbor at 19115 Sheldon. This is the last month for judging Yard of the Month. We will start again to award a homeowner with the honor of Yard of the Month in April 2014.
---
Firewise Communities
In spite of it being a rainy day, we had a good turn out for our 6th Annual Car Show and Chili Cook Off on Saturday, February 8th. Everyone appeared to have a good time. Thank you for coming and supporting our events.
We certainly want to thank all those who braved the not so pleasant weather to show off their vehicles and to the three judges who waded through puddles to give their fair and impartial evaluation of each vehicle. Congratulation to the winners.
In the judged competition the winners were:
First Place to Kenny Crites with his 1969 Chevrolet Camaro
Second Place to Jim Miner with his 1968 Ford Mustang
Third Place to Richard Harris with a 1935 Ford Coupe


and the winner of the Peoples Choice trophy was Kenny Crites and 1969 Camaro.
Thank you to all who participated, to our sponsors, to those who donated items for the raffle, to the volunteers who braved the weather to make this another successful event and to the community for their support.
---
Lunch and Movie
Our lunch and movies group meet every Tuesday for a fun time. There are usually 10 to 14 girls and we dine at different restaurants and see the latest movies.
Last month and in February we dined at "Amigo's Mexican Restaurant", "Logan's", "Giovanni's", "Sonny's", and "T.G.I. Friday's". The movies we enjoyed were "Frozen Sing-Along", "Jack Ryan: Shadow Recruit", "The Hunger Games", "Lone Survivor", "Ride Along", "That Awkward Moment", "Labor Day" and "The Monument Men".
If anyone is interested in joining us contact Jan Berglund (407) 568-3313 or Sylvia Cox (407) 568-2410.
REMEMBER: Friends are family that we meet along the way.
---
Wedgefield Classy Red Hat Ladies
Our Prayer Group has been in existence for approximately six years. The group consists of Sylvia Cox, Jan Berglund, Joanne Cobbs, Alta Deevers, Connie DeVries, Lillie Douglas, Marilyn Egan, Theresa Jones, Eleanor McGill, Arlinda Phills, Nancy Stickrod, Jean Terry and Rosemary Wolfe.

In January and February our prayers went out to Lou Lasley, Roy Crosby, James McGill, Bill Douglas, Ray Terry, Lynne Lilly, and Bob Cobbs. Some of them were in the hospital, a few were in Rehab and are still there and a few are taking treatments and one has returned home from Rehab. We pray for them, call them, send cards and visit those who would like a visit. I did visit Lou Lasley and Lynne Lilly in the hospital. If you know anyone that needs our prayers, call Sylvia Cox (407) 568-2410.
---
Community Emergency Response Team
WEDGEFIELD CERT FUND RAISING

On Saturday, October 12th, the size of the Wedgefield Community Emergency Response Team (CERT) increased by 10 trained volunteers. The new volunteers assembled in the Wedgefield Park for the final drill to show that they were trained in all aspects of helping the community in the event of a disaster. The duty team from the Wedgefield Fire Station was on hand to watch the drill and offer suggestions. The Instructors and Personnel from the Office of Emergency
Management were also there to observe the drill.
Our team has increased to 40 members, still a relatively small group considering that there are nearly 3,000 homes in Wedgefield. The training we received is priceless but the equipment we need is expensive. Thanks to the hard work of our team at last year's garage sale, individual donations and a small Grant we received from the County, we have purchased 4 large First Aid Kits, 3 Fire Extinguishers, 4 heavy duty Tarps and 8 sets of Walkie Talkie's but we still need 4
large pop up Tents with heavy duty stakes, 4 to 6 more sets of walkie talkies, a couple fold up tables with chairs, blankets, extra batteries for the walkie talkies, strobe lights, stakes for the Tarps, paint, ropes, bottles of water, a people mover (stretcher) and other items.
---
Wedgefield K-8 School News
Click on image below to see the

Nov 6th 2013

Presentation.

Click on image below to read the

questions and answers made

after the presentation.
Nov 6th Update: K-8 Wedgefield School for August 2016
by Pamela DiMarzio (pameladimarzio@yahoo.com)
On November 6th, 2013 OCPS held its first community meeting regarding the coming K-8 school to the Wedgefield community. The meeting was held at Corner Lakes Middle School and was well attended.
The slides of the meeting will be posted on the Wedgefield HOA site under the school link.
Here are some quick highlights:
The school will be located between Paddock and Ortega Streets including the one unbuilt lot off Bancroft. The school board also owns another lot off Northcliff that they will keep for a possible future elementary school.
Site due diligence has started since July 2013. Construction Manager will be selected by Jan 2014. Design of the school starts Feb 2014. Construction starts Jan 2015. OCPS moves into the school July 2016.
---
Closing on a home, and need an "estoppel" letter?
Please send a request for an estoppel letter, along with a check for $50.00 to:
Rich Mehochko
Director, Wedgefield Homeowners Association
19248 Quarterly PKWY
Orlando, FL 32833
Make the check payable to "Wedgefield Homeowners Association"
Please include all of the pertinent information concerning
the property and the owner on your estoppel form letter.
---
ATTENTION RESIDENTS IN THE "CITY" AREA!
If you have any concerns or questions of your water/sewer service provider, Pluris Wedgefield
you can contact them at their email address:
Questions about Billing, Customer Service, Notification, etc. should be sent to that address. Residents are invited to tour the plant and meet the on site personal. Please send them an email to request a tour.
Click Here For Info On Pluris Wedgefield, Inc.
Click Here for the Annual Quality Water Report

---
Vacant Home On Your Street?
Lawn Needs Mowing?
Here Is The Orange County Web Link For Reporting Information

Orange County Code Enforcement Contact Information
---
Want The Contact Information For Your Elected Officials? Click Here!
Want The Contact Information For The Florida Public Service Commission? Click Here!
---