The Wedgefield community is diverse in both age and culture and offers a great atmosphere for enjoying the natural beauty and great weather of Central Florida.
We encourage you to visit Wedgefield and have lunch at the Club House and get to know some of the people that call Wedgefield Home.
Your neighbors would like to invite you to join our Homeowner's Association:
Click here to Join Us
Wedgefield Homeowners Association
Rules and Restrictions
Section 4.7 Signs
No signs of any type shall be displayed to public view on the Lots or any portion thereof without the prior written consent of the Association, except the following:

A. One "For Sale" sign or "For Rent" sign per Lot; provided the sign is no larger than two (2) feet by two (2) feet;

B. Political signs are permitted during election periods and must be removed immediately after the election;

C. Builder's signs for models and offices: and

D. Commercial Business signs on vehicles are permitted.
E. Garage Sale Signs, not to exceed three days and must be removed immediately after the event concludes
From the Orange County Code Enforcement Website
llegal Signs
"Private signs may never be placed within the public right-of-ways unless approved by Orange County. Signs may be removed without warning by County workers and those placing such signs are subject to fines. The county picks up over 100,000 signs each year."
I will specify that the "Save Wedgefield" signs are not considered to be "political signs". If you are concerned about the presence of these signs, or any other illegally placed signs, be proactive and take some action. If it's your neighbor ask them to remove it. Call Orange County Code Enforcement (407-836-3111) and report the violation and ask that the signs be removed. If the signs are on private property call any of the WHOA Directors and report the address so we can take appropriate action.
---
Neighborhood Classifieds
Classifieds
ESTATE SALE STARTING JANUARY 2015

Furniture Security Desk Curio Cabinet Appliances Lamps Housewares Depression Glasses Sportscards Comics Vintage comics Parrot cage Bird Cage Toys Collectible Barbie Dolls AND LOTS MORE. Please call KATHY at (407)568-1805. Prices are Negotiable and package deal.
Two well behaved male collarless pit bulls
At approximately 1 AM Saturday morning (Dec 6) we came across two male pit bulls. Well behaved and playful. If your looking they are at 2258 Baker. You can contact me at 954-598-4332. They were fed and out I the elements. Please contact ASAP. we don't want to turn them in cause of breed and stigma.
---
Note from the President
Dear Friends & Neighbors,

I hope this message finds you and your family doing well. One thing that I believe is that change is one of the certainties of life and after years as quiet Wedgefield with little or nothing happening, well things they are a changing.
There are currently at least ten home builders with active construction in either or both the city and the estate sections of our community and several have more than one home underway.
The Ranger Drainage District has a couple of projects underway; the Lake 11A project on Seaview Street will be completed by May with properties having an attractive lake view. Also the storm water relief project from Abalone Blvd and Yam Street around the commercial property and down Macon Parkway will begin by the first week in April.
The Family Dollar Store project, at Maxim Parkway and State Road 520, will begin the third week of March and should be completed in about sixteen weeks. Also watch for a notice from Pluris of an informational meeting about some upcoming construction between the water plant
and Maxim Parkway.
The good news is it appears that our property values are on the rebound. Have a great month and come see us at the WHOA Meeting on April 8th at 7:00 pm in the Golf Clubhouse.

Mike
---
Bayanihan at Wedgefield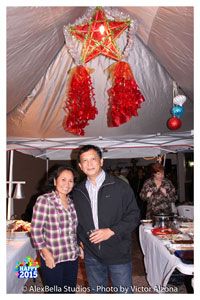 Dear Bayanihan at Wedgefield Members and Friends,
If you attended the wonderful New Year's Eve Celebration at the Gandola residence, you know that we started the year off with a bang, great food, music and dancing.
I would like to thank the Gandola Family for hosting the New Year's Eve celebration and everyone who participated, helped, organized, and supported the event.
I would also like to thank Jonathan Toves for his leadership, the 2014 Officers for their hard work this past year, and the many members that supported and participated.
Looking back through 2014 with Bayanihan, you can see by the event photos below that it was busy with activity.
Looking forward, I see an opportunity for Bayanihan at Wedgefield to do extraordinary things for our members, kapitbahay, and community. The possibilities are only limited by our imagination and resources.
I invite you to look at the possibilities and the future of Bayanihan at Wedgefield at the next general membership meeting. I look forward to hearing your feedback so together we can plan the future of Bayanihan at Wedgefield.
Sincerely,
Victor Alzona
---
Neighborhood Watch
This Month Neighborhood Watch Information will continue to be published in an ongoing effort to keep our community informed on crime watch matters.
During the last half of FEBRUARY to the present date of MARCH 15, 2015 based on Orange County Sheriff's crime statistics and individual reports not yet reflected in the statistics WE HAVE HAD NO REPORTED CRIMES with the exception of a phone report regarding the theft of gas from 2 vehicles on Melville Street in the 20700-20800 block.
It stands to reason that if we see someone carrying a gas can and a hose after dark one can assume that they need help of some kind and the quickest way to help is by calling a deputy. Do not confront the individual, just get a good description take a deep breath and make the call – since it is some type of emergency I would call 911 and then me at (407) 679-6644.
Do you remember when we published a wanted poster showing a suspected auto burglar back in JUNE of last year?
We immediately got 2 hits with names given. I was just informed that an arrest was made last month. I wonder if that may be why we do not have any burglaries to report. Reporting incidents as they occur can result in good things happening.
---
Citizens On Patrol
Can I Park here or there?

When I am out on patrol I sometimes see vehicles parked in violation of ORANGE COUNTY ORDINANCE 85-1 CHAPTER 35 and I may issue a courtesy ticket (warning ticket with no fine) to let the vehicle owner know that they are in violation.

Occasionally the owner may see me writing a courtesy ticket and they may ask me if they can park here or there? My answer will depend on the parking violation I observe and the situation. The majority of the vehicle owners I have spoken with are not aware of ORANGE COUNTY ORDINANCE 85-1 CHAPTER 35 and are happy to get an explanation from me of why they are in violation of the ordinance. The majority of the vehicle owners are happy to quickly remedy the situation to prevent a parking ticket.

During my patrols I have noticed that the majority of the parking violations in Wedgefield are due to vehicles parked on or blocking sidewalks and vehicles parked on or blocking the bicycle lane / path.
---
Calling All Green Thumbs
The Green Thumb Garden Club of Wedgefield met on March 5th at the Country Club meeting room. Adelaide Catania was presenting our program on Tomatoes and composting. Handouts included a chart giving the uses for spices that we can grow at home along with directions to "Make Your Own Compost". This is a simple plan that anyone can do. Compost adds nutrients to your plants without cost!
Next month, Connie De Vries will give a program at the April 2nd Thursday meeting. Please come out and support your local garden club! You will all be welcomed! Mark your calendar for April 2nd at 11:00. Please come. See you then!
---
Yard of the Month
Yard of the Month Program - Voting began in April, during the first week of the month. Judging will be done by 3 people on a criteria of the best yards viewed and voted on during the viewing time. A yard sign will be awarded to the winning yard. That sign will be picked up and presented to the next month's winner.
November Yard of the Month
Green Thumb Garden Club Judges this month, were Rosemary Wolfe, Jackie Miner, and Lee Breedlove. The area to be judged was Macon Pkwy to Maxim Pkwy and 520 to Bancroft. The yard that was chosen for Yard of the Month was at 2365 Archer Blvd. Owners, Jackie Finley Carter and her husband Don. She is a School teacher and Don is retired. Jackie has lived in Wedgefield since 1975! Judges noted a nice Elm tree, and an Oak tree, Crape Myrtle, Red Trumpet vine, coleus, Bird of Paradise. There was also Pinta, Jatropha's, Texas sage, and varieties of Lilies. The back yard is just as beautiful as the front yard.
Other yard's the judges took favorable notice were 20208 Marlin, 2255 Bagdad and 2221 Amberly. Thanks to all the homeowners who take care of their properties! This is the last Yard of the Month until after winter. When spring arrives, remember the Yard of the Month will be out again!
---
Firewise Communities
PRESCRIBED BURNING BY GAIL WILDS

Florida is pyrodiverse, meaning that most native plants evolved with fire due to our propensity for lightning strikes. Saw Palmetto, Wire Grass and Long Leaf Pine are examples of this pyrodiveristy. Similarly, due to our long growing season, the equilivent of 300 gallons of fuel are added to each acre every year. Therefore, managing or reducing this fuel is an important component of land management in Florida. Prescribed burning favors edemic species and prevents exotic species.
Most prescribed burns are accomplished during the Fall through Spring. The objectives vary, but fuel reduction is always a top priority. A prescribed burn simulates a low intensity mosaic of fire. Whereas a wildfires' intensity can destroy native habitats. Most zones are prescribed burned on a rotation of 3 - 5 years. Land managers, like St. John's River Water Management District (Hal Scott), are required to use a prescription that dictates the weather conditions required for each zone. Wind direction is critical due to smoke management. Because weather is unpredictable and forecasts are sometimes unreliable, land managers have a goal and prescriptions for the zones they want to burn on any given year. The weather is the deciding factors before the operation is started. Weather readings and a test fire determines if conditions are right in the field. Equipment and crew always on standby when the weather fits the prescription.
Learn more at our National Wildfire Preparedness workshop on May 2nd from 10 AM to Noon in the conference room at the Wedgefield Country Club. To register contact Gail Wilds 407-568-0737
---
Lunch and Movie
Every Tuesday ten to fourteen gals support local restaurants and see the latest movies. We have been to "Applebee's", "Red Lobster", "Smokey Bones", and as I write this their next outing will be at "Fiji's Japanese Restaurant".
The months of February and March the lunch and movie group enjoyed "American Sniper", "Kingman: The Secret Service", "Fifty Shades of Gray", "Still Alice" and "McFarland, USA".
If you are interested in joining the group please call Jan Berglund (407) 568-3313 or Sylvia Cox (407) 568-2410.
REMEMBER: Your don't stop laughing because you grow old, you grow old when you stop laughing.
---
Wedgefield Classy Red Hat Ladies
On February 20th 32 "Red Hatters" gathered at our neighborhood Country Club. Ann Breazzano, Debbie Goderis and Ann Grimes were the hostesses.
We had an outstanding Italian Buffet and everyone had a great time. The tables were beautifully decorated and everyone received a handmade gift at their table. The door prizes were won by Norma Hallberg, Isabella Asgill, Lillie Douglass and Eleanor McGill. We had a few visitors: Janis Thaw and Donna Parsons. Donna enjoyed it so much she wants to become a "Red Hatter". Our birthday girls were Rosemary Curtis and Doris Bain.
Our next outing will be March 20th at "Red Lobster". Jackie Miner, Joann Cobbs and Martha Jo Simpkins will be the hostesses. In April we will descend on the new "Beef O'Brady's" on Colonial Drive not far from our neighborhood. Our hostesses will be Doris Bain, Jean Terry and Alta Deevers.
On the 13th of February a group of "Red Hatters" went to the Country Club for a Valentine's Buffet and everyone wore a touch of red for Valentine's.
On the 1st of February seven "Red Hatters" really enjoyed the "Mary Poppin's" play at the Titusville Playhouse and then we headed to "Shiloh's Seafood Restaurant". On the 26th of February five "RED Hatters" drove to Mims for a Tea Party that was hosted by Joan Smith (who is the Queen of the "Huggables"). She had chicken salad, ambrosia, regular salad, cake, cookies and all kinds of hot and iced teas. She gave all 14 "Red Hatters" a tote bag; we got to pick out our color.
---
Community Emergency Response Team
CERT Training

On Saturday October 11th, 21 members of the Wedgefield CERT group met with Mr. Jack Tracy of the Florida Health Department who is in charge of the Orange County Neighborhood Emergency Preparedness Program (NEPP). Mr. Tracy introduced the team to Mr. Jim Mauney and his wife Kim. Mr. Mauney is a Professional Trainer who has trained Firemen, Law Enforcement Personnel as well as numerous CERT groups and Kim is a Certified EMT who is currently employed by the Corrections Department.

Mr. Mauney went into detail about the various parts of a NEPP and CERT components from the Incident Command thru the teams in the field and how they all blend together. He led the attendees through a simulated tornado in Wedgefield in a table top exercise and then explained how good record keeping is extremely helpful to the Fire Department personnel and other professional responders. He put the attendees through some very interesting team building exercises and worked on radio communication procedures.

The entire day was interesting, informative and motivating. This is just one more part of the training that the volunteers do so that they are ready to help their neighbors and the other residents of Wedgefield in the event of a disaster.
---